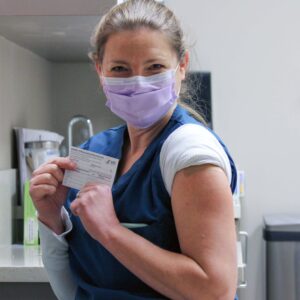 Today is a good day. At 8:30 am this morning, we started the two-day process of vaccinating our staff, our volunteers, and our interns. For ten months now, I have watched my colleagues grapple with the realities of managing COVID-19 at the clinic.
Our COVID helpline has responded to 26,075 calls.
Our team has directly provided 980 COVID tests and consultations for people with COVID-19.
In partnership with CVS, we have helped test 20,597 people at the rapid testing site.
We watched and cheered and took pictures as the first employee vaccinations took place. In our triage area, next to our vaccination room, I put on my N95 and my PPE to start testing children. The first child tested positive. So did two of the next three. I watched employees walk in and out from getting vaccinated while I walked back and forth from triage, testing kids, and discussing positive results with parents. It was a surreal mix of hope alongside the genuine persistence of the COVID-19 pandemic.
Thank you to our staff and volunteers for the months of service you have given Good Sam and our patients. A vaccine will not erase the hours of extra work, the pain of what you have seen and experienced, or the ongoing challenge the pandemic will bring us in the months to come. But it is a bit of hope. Today, you go home with more than just a mask. You go home with the start of protective immunity and a vision for better days to come. You deserve this, and I am so thrilled to watch you receive it.


Breanna Lathrop, DNP, MPH, FNP-BC
Chief Operating Officer
Good Samaritan Health Center
---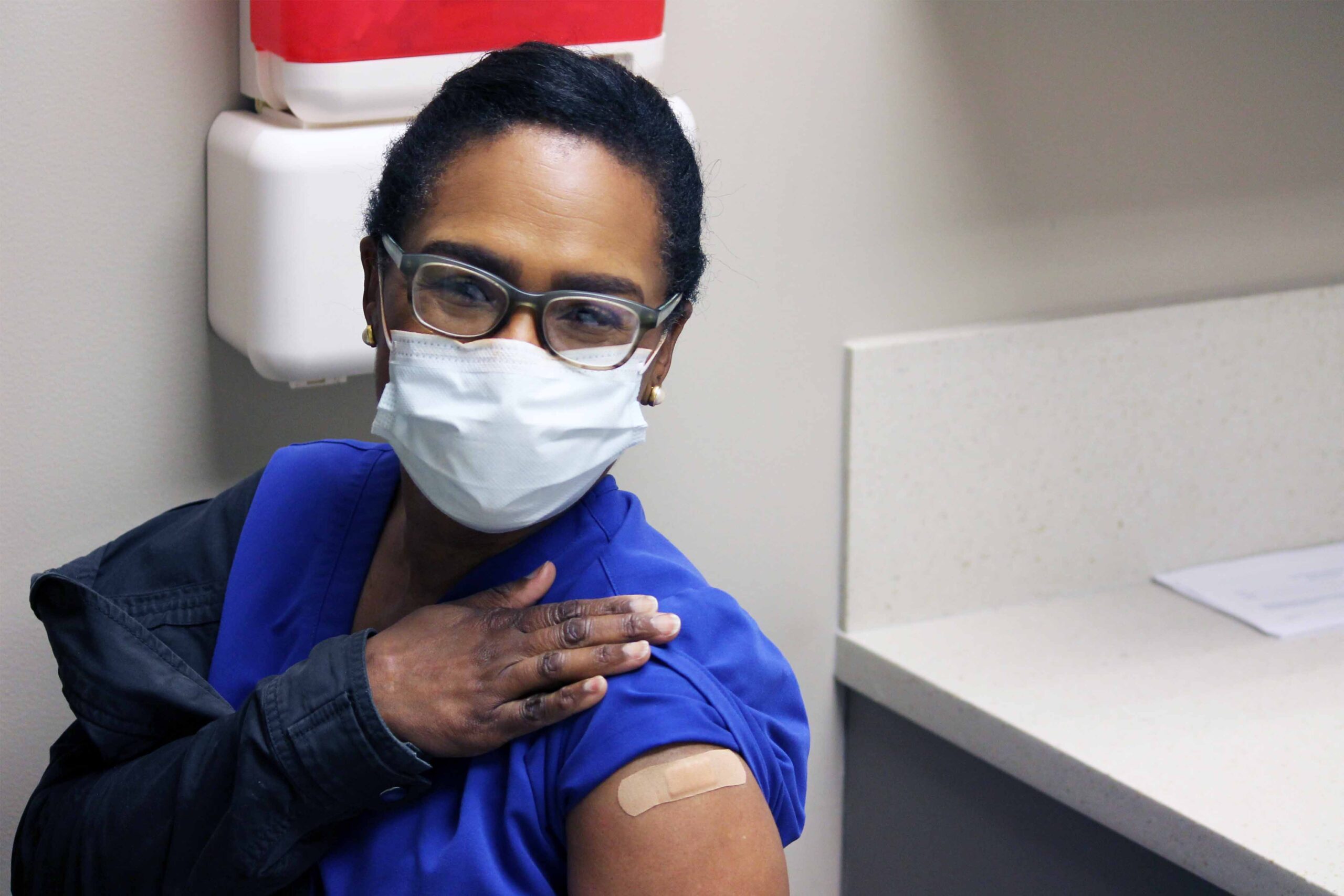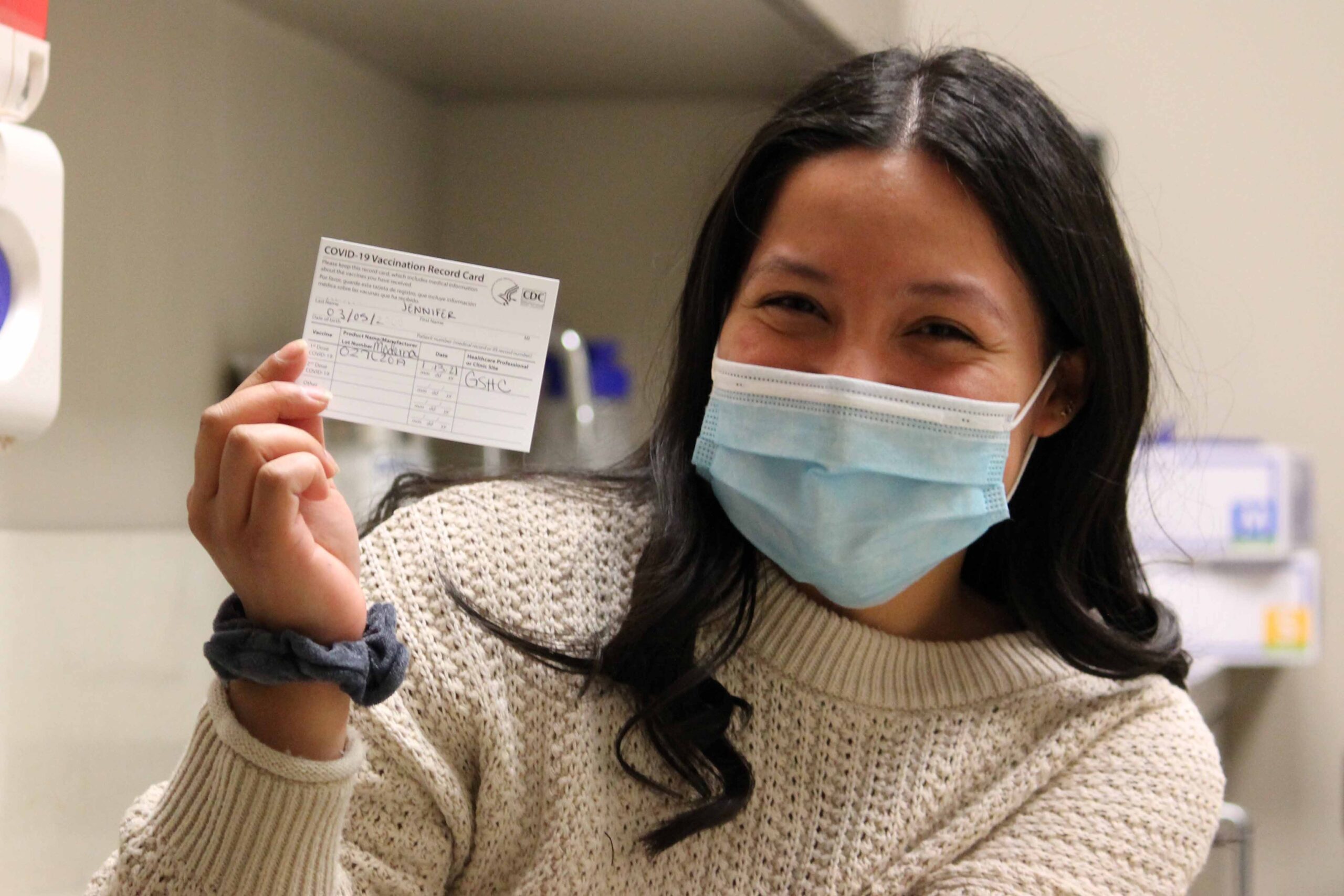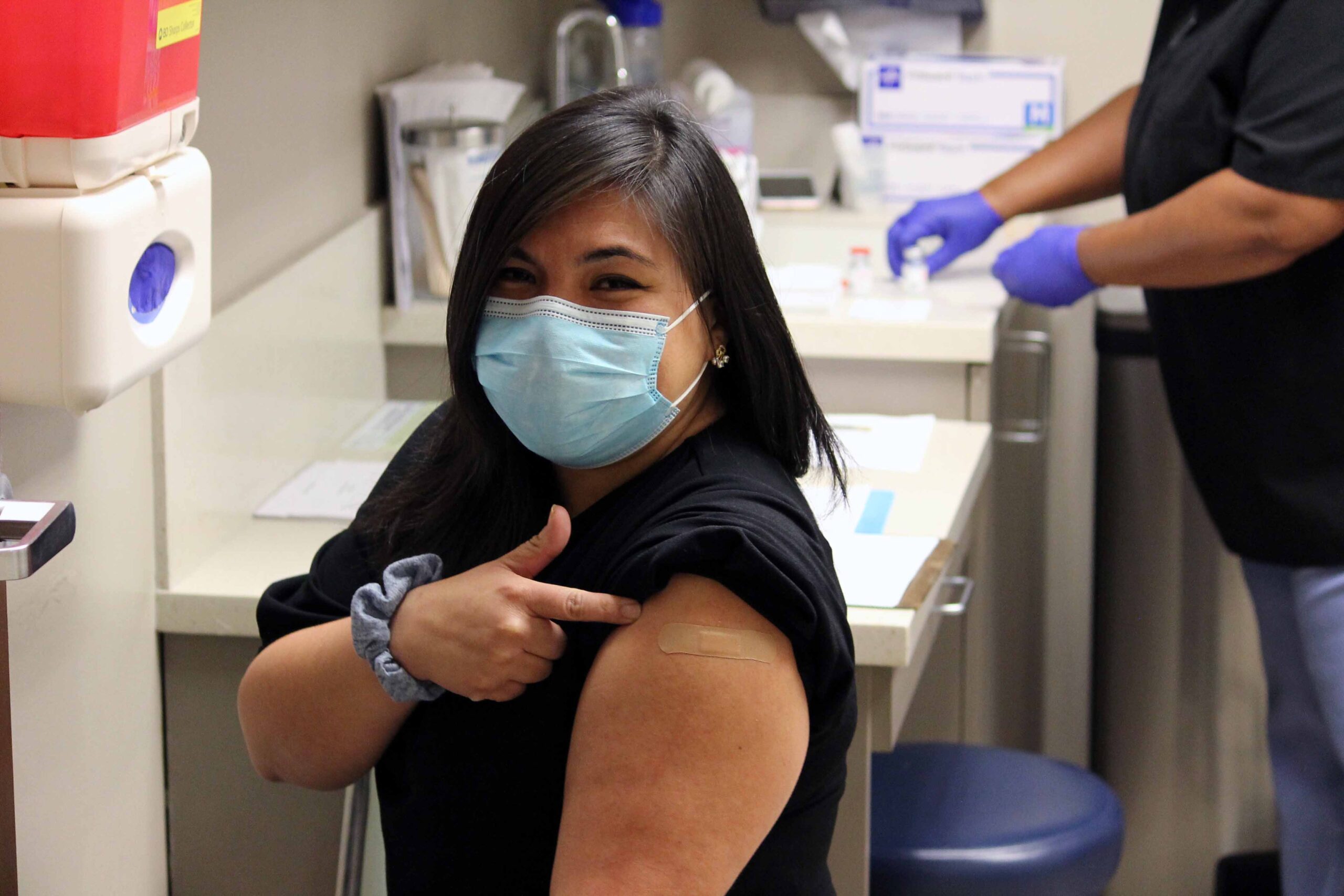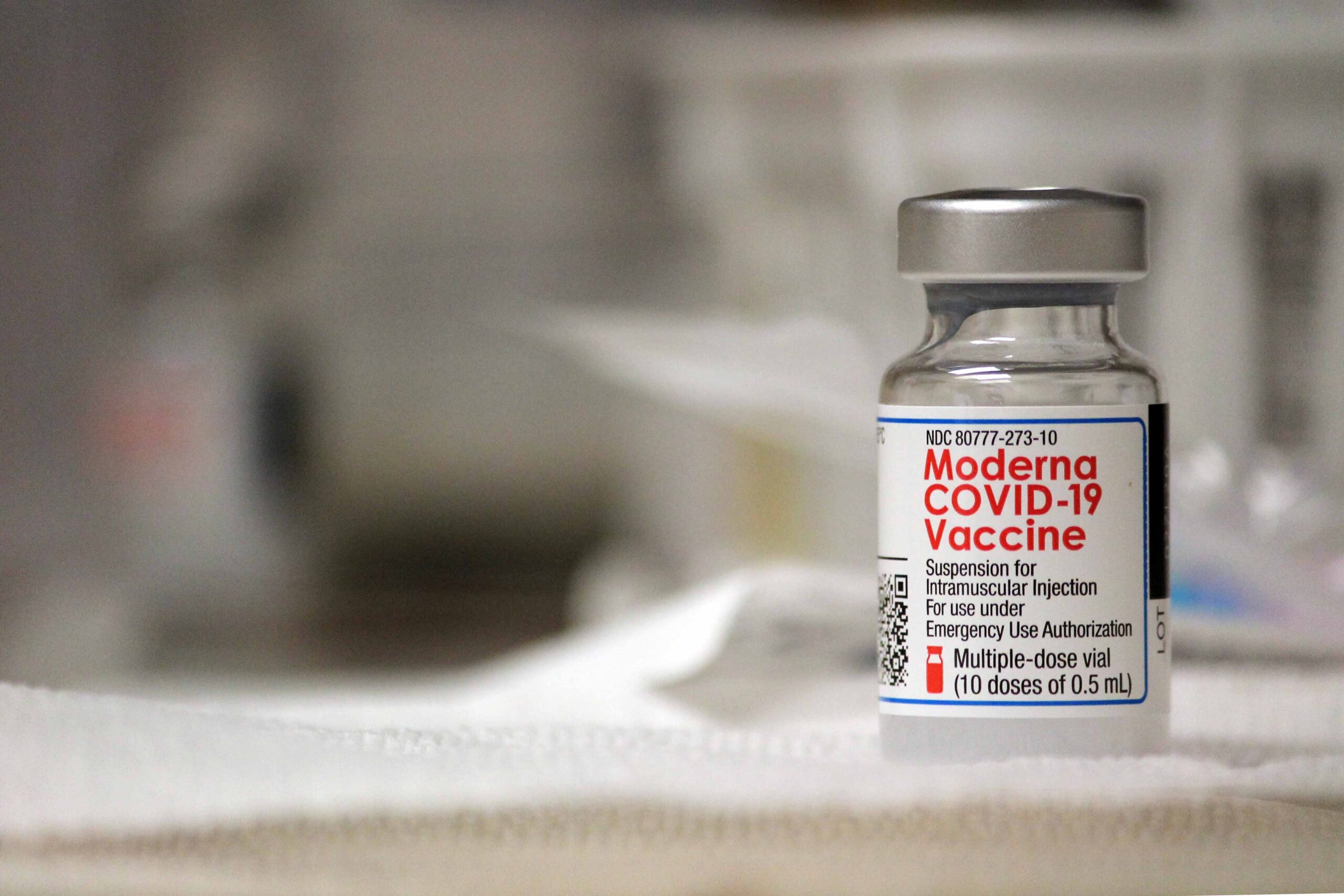 ---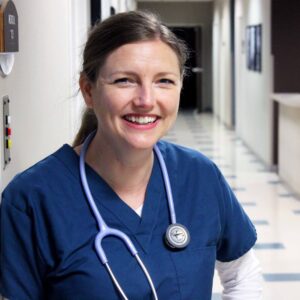 It's 4:30 pm on December 29th, and I just swabbed my last patient of 2020 for COVID-19. I would love to be bidding 2020 farewell, as I'm sure most of us are, but we don't get to leave this year behind us. 2020 has changed us. We have tested the limits of our healthcare system and found that it has a breaking point. We have been reminded that time does not heal racism, only sustained, intentional change. We have seen our collective need for community and the consequences of going without it. We have learned that we are each other's greatest asset. We can manufacture more test kits and ventilators, but we cannot produce skilled, compassionate healthcare workers when they get sick or burnout. 2020 has changed us as a nation.
2020 has also brought changes to Good Sam. Our previous staff entrance has moved from a temporary acute care triage to a permanent exam room to assess those with COVID-19. Our community fitness center will enter 2021 as a COVID-19 testing site as it has been most of the year. I am not sure we will ever deliver patient care without wearing masks again. Temperature and symptom checks at the door will remain a daily practice. Our COVID-19 helpline finished the year with 200 more calls on Tuesday, surpassing 22K COVID-19 related calls this year. These changes, while necessary, are ones I wish we didn't have to make. Other changes have been good. We have initiated conversations and an action plan around racial equity both internally and in our clinical practice. We have added new employees to deliver our regular services alongside COVID-19 care and testing safely. We have harnessed the power and skills of our volunteers in ways we never imagined.
More than anything else, we have seen the way God sustains our work through his people. Our staff has amazed me. Some took on new leadership positions and roles that didn't exist a year ago. Others volunteered to take on the most high-risk tasks. Others worked extra hours to accommodate increased demand and cover for staff members who were quarantined. They developed new workflows and solutions to constant change. Every staff member navigated the personal challenges COVID-19 delivered to them while showing up and working harder than ever before.
Our volunteers enabled us to respond in ways we could never have otherwise. Over 80 people trained created a volunteer-run call center to respond to over 22,000 calls that came in through our helpline and scheduled over 18,000 COVID-19 tests. They developed systems for training and communication and joined weekly Zoom meetings to keep up with the pandemic's constant changes. Volunteer providers, who could have just held off for the year, started offering telehealth. Others provided on-the-spot consults for our primary care providers, while others put on masks and joined us at the clinic. Our prayer team not only kept praying for us and our patients but started a weekly prayer call. In a year of financial challenge and uncertainty, our donors gave more than ever, allowing us not only to stay open but expand our services to meet new needs. Community organizations and churches supplied PEE, lunches, and even gifts for staff.
I have many emotions as I process the end of a year I could have never imagined, but I feel overwhelming gratitude for those who came alongside us more than anything else. Thank you for loving us, supporting us, and joining us in a year that would have been impossible without you.


Breanna Lathrop, DNP, MPH, FNP-BC
Chief Operating Officer
Good Samaritan Health Center
---
December seems to be racing toward Christmas and we ourselves in the season of Advent. The season of hope. For most of us, this year feels different. I think of all the patients, friends, and staff members I know who will enter their first Christmas without a loved one whose life was lost to COVID-19. Holiday parties are canceled and travel plans are indefinitely on hold. In the eleven years I have been at Good Sam, this is the first year I can remember that we have not decorated. The huge tree in the lobby is not there nor the garland along every countertop. In the past, volunteers from local churches come and decorate, but it was not safe to do so this year. This year has not felt very hopeful.
I joined the statewide Department of Health vaccine rollout conference last week along with 800 providers, health care administrators, and pharmacists across the state. There are still so many unknowns but it was thrilling to think about a way forward. I'm longing to trade in swabbing for vaccinating and offering a solution instead of telling sick people there is nothing I can prescribe. We are still a long way from finished with this pandemic and our hope for a way out depends on our collective decision-making.
But being hope is hard.
When Jesus brought hope to a dark and despairing world, he did so by taking on human form and the suffering and limitations that come with it. He did so by bearing fault that was not his own and dying a painful death.
Being hope is hard.
Being hope this season is canceling travel plans and missing time with loved ones. Being hope is foregoing holiday traditions for safter, simpler plans. Being hope is wearing a mask everywhere. Being hope is taking a new vaccine as soon as you are eligible for it.
The celebrations and traditions of Christmas will look different this year but the reason for the hope we celebrate is not. God is still working and God is still good. So choose to be hope for our suffering nation this season and know that the scarifies you are making are saving lives.


Breanna Lathrop, DNP, MPH, FNP-BC
Chief Operating Officer
Good Samaritan Health Center
A few weeks ago, Georgia's COVID-19 case count plateaued after a slow steady decline following the summer's peak. Next, the helpline calls started to pick-up reaching over 200 calls today, which hasn't happened since early August. The positivity rate at the test center is also back up. After weeks at 10-15% (which is well above the 5% target), we hit 30% one-day last week and haven't dipped below 15% since. The acute care schedule is quickly filling up, but it is different this time around. People are sick, but it's not only COVID-19. One patient with cough, body aches, and fever, which I saw on Monday, tested negative. Another patient that same day with classic viral gastroenteritis symptoms for a week tested positive after I decided to test her "just in case." Georgia isn't seeing influenza yet, but it is coming.
The other day I looked up a patient I saw during Georgia's last pandemic peak in July. He had the lowest oxygen level I have seen in a patient outside of the hospital, and I sent him via ambulance to the ER: attempts to call him and family members in the days that followed here unsuccessful. Our electronic medical records interface with the hospital, so I looked at the notes. I sifted through a month of notes that read more like a horror story: ventilation, kidney failure, dialysis, bilateral pneumonia, sepsis. Finally, I found the hospice note. He died on his first day of in-patient hospice, his family at this side. Six weeks since contracting the virus, he was no longer contagious, so his family could be with him. In a tragic kind of irony, COVID-19 had long left his body, but the damage it caused never did.
I thought about the nurses and doctors who cared for him over that month. They didn't know him for years as I did, yet they provided care around the clock, risking their safety to try and save him. I thought about the chaplain who supported the family and wondered how she manages the grief day after day and if she feels like I do as we watch the early signs of a case surge emerging. I think about his family as they grief and find a way to live without him. I wonder if his young son was allowed in to see him. I picture the sweet round-faced boy who sat so quietly every time his father came to see me.
I don't know what the next months hold. I hope for the best but prepare for the worst. I see high-risk patients every day for their routine care and find myself praying I'm not looking through their hospital records in a few months. At the same time, I cling to what the last six months have taught me. I am a part of a fantastic team that will show up consistently with the determination, compassion, and commitment needed to make it through. A team of volunteers continues to show up every single day and answer hundreds of calls. A prayer team will cover us in prayer with words of faith and expectation when I have run out. Patients show up in masks and tell me how they wear masks everywhere, and all they are doing to protect themselves and their families. In these efforts, they are watching out for us too. I don't know how many more surges await us, but I know we will be here because this is what we do, and I wouldn't be anywhere else.


Breanna Lathrop, DNP, MPH, FNP-BC
Chief Operating Officer
Good Samaritan Health Center
---
I haven't blogged in a while, mostly because life has been busy. It feels like we are all coming up for air after surviving June, July, and the first part of August when positive rates at our testing center didn't dip below 30%. Rates of COVID-19 in the metro area are down, but COVID-19 is not gone. Our contract with CVSHealth to run the rapid testing center has been extended through the end of the year, and the daily positive cases remind me that the curve could swing upward again at any time. One of our providers told me she called a mom this week to let her know that her children had tested positive. She burst into tears because her mother-in-law had just died of COVID-19, and she would not be able to attend the funeral.
As the months go on, we see the ongoing challenges of the pandemic. I now have a cohort of patients who had COVID-19 in June and July. They have "recovered" but still don't feel themselves. They complain of ongoing fatigue, insomnia, and shortness of breath, among other symptoms I can't explain. They want to know what they can take and what they can do to recover, and I have no answers. We still have so many gaps in our understanding of the virus.
We also have those who have been reinfected. I saw a patient yesterday who had COVID-19 in June. She had symptoms and tested positive. She tested negative after her recovery. A few days ago, she started having symptoms and decided to test. "I didn't think I could get it again," she told me. "I wear my mask everywhere. I don't know what I am doing wrong." Antibody production is another gap in our knowledge. Why do some people develop antibodies, and others do not? How long do they last?
Fall brings influenza and cold viruses, which are impossible to distinguish from COVID-19. If lower rates lead people to be less cautious and all schools to open, COVID-19 could spike again. Sick care will be very different this fall as people will need care, and we will have to distinguish COVID-19 from a variety of other infections. We are restructuring our schedules and policies in preparation for what could be a challenging fall.
Finally, reports about a COVID-19 vaccination are hitting all media channels. We are still a long way from an effective vaccine mass-produced and distributed for universal vaccination. We are preparing for the next stage in the pandemic to manage people with COVID-19 while distributing the vaccination simultaneously.
I don't know what the last quarter of 2020 will look like, but I know we will be ready, and we will be open. We have an incredible team that has embraced nearly constant change this year and done it with grace and endurance. We have a team of volunteers running a COVID-19 call center, which has responded to over 11,000 since launching in March. When wondering about what happens next feels overwhelming, I just remember how much we have already done.


Breanna Lathrop, DNP, MPH, FNP-BC
Chief Operating Officer
Good Samaritan Health Center
---
Christian Nurse's COVID Response
The COVID-19 pandemic has brought unprecedented challenges to both the healthcare system and communities of faith. While some assume that science and faith are in opposition to one another, nurses of the Christian faith are uniquely qualified to understand science as a gift from God that can serve God, love God's people, and bring about the work of healing. When science and faith appear to collide, how can Christian nurses respond?
Acting on the Truth
I am a nurse practitioner and the chief operating officer of an urban nonprofit clinic and see patients with COVID-19 on most days of the week. I also serve on my church's COVID Task Force. My faith has never been more important to my work as a source of resiliency and hope. My work has never been more essential in living my belief that God loves creation deeply. In this country, we have seen over 168,000 people lose their lives to COVID-19 (CDC, 2020).
Severe racial disparities persist with black Americans dying of COVID-19 at 2.5 times the rate of white Americans (The COVID Tracking Project, 2020). This grieves the heart of God and should grieve the church as well. Yet, I watch Christians argue that keeping churches closed and wearing masks is giving in to fear. My N95 is my lifeline right now, so how do I respond?
Refusing Fear
First, Christian nurses have a unique perspective on fear. Fear protects us, helping us identify situations that could harm us. As nurses, we have delivered terrible diagnoses to patients and seen fear in their eyes. We have prayed with families who have watched their loved ones enter surgery, wondering if they'll see them again. We know this fear is real.
For me, I am not acting in fear when I put on a mask and turn down social events; I am moving in fear when I work as if God is not sovereign. Faith does not invalidate concern but provides a path by which we can act despite it. We can trust that God is with us and use the tools and knowledge of our profession to protect our patients. Christian nurses can help frame the discussion around fear, focusing on a vision of caring for God's creation using the most current knowledge of COVID-19 transmission.
Faith Communities
Christian nurses also can help guide their faith communities in safely meeting the needs of congregants. The church's work is essential right now, from providing social support, comfort in times of loss, meeting the physical needs of members experiencing hardships, and providing tools for coping, meditation, and prayer. At the same time, even before the COVID-19 pandemic, churches have been sources of significant communicable disease outbreaks (Zepeda-Lopez et al., 2010). Nurses can evaluate data on regional COVID-19 cases and risk factors within their church bodies and assist church leadership in developing structures to safely continue the work of the church. Just as the church's work is not defined by the physical walls of the church, the work of nurses does not start and end inside the clinic or hospital.
Modeling Rest
Finally, as Christian nurses, we can model rest. As the pandemic stretches over months with no end in sight, resting in God's provision and strength is essential to continuing our work in a compassionate, centered, and safe way. Nurses, along with other health professionals, must establish limits and create space for self-healing. We must trust that the work of saving lives and healing bodies is not ours alone. We can bear this together as communities and as a nation as we draw strength from God and one another.


Breanna Lathrop, DNP, MPH, FNP-BC
Chief Operating Officer
Good Samaritan Health Center
Let me tell you about Wednesday. I had a telehealth visit scheduled in the morning. As the pandemic stretches on, fewer people want telehealth visits and prefer to come in person. However, this patient had asked for a telehealth visit, and as soon as she appeared on my screen, I suspected something was wrong. She and her daughter were both wearing a mask. People don't usually wear a mask in their own homes. She tells me she stayed home because she has COVID-19, and her husband passed away from COVID-19 just three days ago. My plans for managing her uncontrolled high blood pressure vanished, and we talked about grief and coping instead. A 2% fatality rate is 100% if it's you or a loved one. Fatality rates are an important but limited picture of the damage caused by COVID-19. How do we measure the grief suffered by families whose loved ones have died alone in hospitals with limited ability to mourn collectively? How do we measure the loss of wisdom, love, culture, and work these individuals would have continued to bring to society?
After seeing a few more patients, I call a patient I have been following for nearly a month. She came in with trouble breathing after a week of symptoms that are typical for COVID-19. She hadn't tested; she was too scared of the results. I sent her to the hospital where they confirmed COVID-19, and she spent a week there on oxygen. After she was discharged, I saw her for follow up, and we talked about managing persistent symptoms. Wednesday, when I spoke with her, she told me she had returned to work, cleaning rooms at a hospital. When she got to work, she suddenly couldn't breathe. She had to leave and hadn't stopped crying since. After a week of being unable to breathe, alone in a hospital, she is traumatized. She desperately needs to get back to work but can't step in a hospital without having a panic attack. How do we measure the trauma experienced by COVID-19 survivors? How do we account for those with persistent symptoms and chronic physical damage we still do not understand? How do we measure the pain and loss from the psychological impact of hospitalization and gasping for air?
Once I finish seeing patients, I start calling patients with positive COVID-19 test results. One is a long-time patient of mine whose annual exam I did just a few days ago. He felt fine when he came in. He called the day after his review to let me know his wife had tested positive for COVID-19. Now he and his children are positive as well. I've lost track of how many times this has happened. It's why everyone in the building wears masks all the time. But I still play it through in my head: who drew his blood? Who was my chaperone? Am I doing enough to protect my team? I read stories of ER providers, doctors who spend their days intubating dying patients, and ICU nurses trying to comfort patients who are suffering alone. I also read about those who have died because of the work they do. How do we measure the stress on our health care workforce? How do we quantify the loss of expert providers who die and mistakes made because people are stressed and overworked, healthcare workers who burn out and leave a profession they once loved?
The death count matters, but it only tells part of the story. The damage sustained from COVID-19 may never be fully realized and may take years to understand. When you hear statements like "the death rate is low" or "kids rarely die of COVID-19," remember the pain, trauma, and loss is much higher.


Breanna Lathrop, DNP, MPH, FNP-BC
Chief Operating Officer
Good Samaritan Health Center
---
I now see patients with COVID-19 almost every day of the week. Some are doing OK and need to review self-care and isolation. Others are very sick. One day this week, I saw two unrelated patients with COVID-19 who had lost family members to COVID-19 just the day before. I can't even imagine grappling with the sudden loss of a loved one while sick with the same disease that took your loved one's life. As if this pandemic wasn't already painful enough, it seems like discussions about how to manage best it has become polarizing and politicized.
I'll be honest that statements against mask utilization are about to make me lose my mind at this point. This week, a child tested positive, sneezed all over my face shield while I got his nasal sample for testing. I stand next to patients as they cough so I can see what happens to their oxygen levels as they move. The only thing separating me from COVID-19 is a mask, and you can bet I'm wearing one at the clinic and when I'm not at work. However, I'm sure many people would disagree with my thoughts on managing the spread of COVID-19. In the end, as humanity, I think we share a common response to the pandemic: fear.
I have never seen fear the way I have seen it in patients coming in with COVID-19, particularly those struggling to breathe. I'm not sure there is a more terrifying physical experience than not to be able to breathe. Fear is on display in so many ways right now. People are fearful of the health and lives of their loved ones. They also fear job loss and poverty. Parents are worried about their children's education, particularly those whose children have learning disabilities and needs that cannot be met at home. People fear the loss of freedom, social isolation, and a sense that normal is not coming back.
As a Christian, I know God warns against the destruction fear can cause. We certainly see that on display right now. At the same time, the God who says, "Do not fear for I am with you" (Isaiah 41:10) is the same God who says, "How blessed is the man who fears the Lord" (Psalm 112:1). In other words, fear can be both destructive and necessary. We see this at a biological level as well. We are programmed to fear situations that would cause us harm. If you've ever raised a toddler, you've probably had the thought, "she needs to develop a healthy sense of fear." So what do we do about fear?
First, I think we acknowledge that we all feel fear to some extent right now because of the pandemic, and that is normal whether we are fearful for our health or the health of others or the loss of our way of life. Faith does not invalidate fear; instead, it provides a way forward. Faith can help us channel fear in a productive and caring way rather than hurtful and damaging. Faith helps me focus on what I can control. When I couldn't stop thinking about the patient I saw this week who wouldn't go to the ER despite severe symptoms, I called her. I'm checking on her every day. When I leave my house for the store in a mask, I do it because it could be one less person who ends up hospitalized or dead. When I choose to keep my children from playdates and learning pods, I focus on how I can better engage them at home. It isn't perfect, and I get frustrated, overwhelmed, and tired. We all do. It's easy to lose compassion and grace for one another right now, but it helps ground me to remember that we all experience fear in one way or another.
Wearing a mask is not my way of causing fear but a way to work against it. I believe God loves each person, and I'll do what I can to protect the lives of those around me. As research emerges with new strategies, I'm ready to acknowledge that we got some things right and wrong about others. I'm going to keep doing what we know best to do in response to COVID-19 because my faith tells me it's not time to give up.


Breanna Lathrop, DNP, MPH, FNP-BC
Chief Operating Officer
Good Samaritan Health Center
---
This weekend, the headlines announced the passing of a great leader and civil rights icon, Congressman John Lewis. Good Samaritan sits in the district he represented for 17 terms. My social media feeds have been filled with stories recounting his leadership in the civil rights movement, the torment he faced at the hands of white oppressors, the march to Selma, and his ongoing commitment to justice in Congress. He also mentored the next generation of activists, leaving a legacy of the change he fostered during his lifetime and the transformation his wisdom has inspired for the future.
Most headlines related to Georgia recently have highlighted escalating COVID-19 case numbers, testing shortages, and political infighting. This weekend, however, I loved reading about the past and present leaders of color from Atlanta's Westside who changed history. They gave their labor, their blood, and their lives for equality. They still do.
The COVID-19 pandemic is yet another example of persistent racial inequity in the US. Black Americans have a hospitalization rate due to COVID-19, which is 4.5 times the rate of white Americans. While this year has been one marked by discouragement and pain, I am so thankful to be working with my colleagues at Good Sam on Atlanta's Westside. I am grateful to support a community that has sacrificed and accomplished so much for racial equity. We must continue the work of using healthcare as a vehicle for advancing equity, no matter how difficult this current season may be.


Breanna Lathrop, DNP, MPH, FNP-BC
Chief Operating Officer
Good Samaritan Health Center
---
It's the 4th of July weekend which is usually marked by a community parade, fireworks, grilling with friends, and sparklers for the kids at my house. We aren't doing any of these things this weekend. I'll admit, I'm finding it hard to celebrate this year even if social distancing hadn't cancelled our usual activities. I've been reading the daily Georgia COVID-19 case count with a sense of dread as we set new records each day. I now spend the majority of my time at the clinic either seeing patients with COVID-19, swabbing exposed kids, or providing frightened patients with self-management and isolation advice over the phone. Our CVS testing site at Good Sam hasn't dropped below a 30% positive rate all week and hit almost 50% earlier this week. Our helpline is fielding 200+ calls a day. Meanwhile, I watch people refuse to wear masks in public and enter restaurants and bars as if the pandemic is far behind us.
In order to make sure our testing site is serving those most in need and promoting equitable testing access, we limit our testing to people with symptoms who either do not have insurance or live in the Westside neighborhoods. Even with restrictions, we are scheduling into Tuesday as I write this on Friday. Today, a caller without any symptoms screamed at me that we were forcing him to lie that he had symptoms so he could get rapid testing. I calmly walked him through other testing options while explaining that lying to take a spot from someone who is already sick makes this pandemic worse for all of us. I read an article this week that quoted public health leaders from other nations on the escalating U.S. case rate. One asked, "Did the U.S. just give up?"
I won't lie: it's been a discouraging week. I do know, though, that there are people who are not giving up. A team of Good Sam employees shows up each day to make sure we are open and serving our patients. They choose to come knowing that despite ample masks, strict policies, access to testing, and a secure isolation zone at the clinic, with escalating case rates, they are at risk. They take on extra tasks and find creative solutions as we change daily to keep up with the pandemic. They carry the emotional weight of seeing fearful and sick patients day in and day out as well as managing the challenges of their own exposure, childcare issues, and managing life in quarantine. They haven't given up.
Along with our staff, a group of 27 volunteers join us from home to respond to 200+ calls each day and schedule 130 people daily for the testing site. They study detailed scripts and spend 8 or more hours a week constantly on the phone to make sure every caller into our helpline receives a response. This commitment and passion is like nothing I have ever witnessed in my career of public health work. In addition, we have specialists who have learned telehealth so they can see our patients although they cannot come in person. They haven't given up.
Please don't give up either. Stay home even when it is boring and uncomfortable. Find creative ways to support the businesses you care about. Wear a mask when you need to go out. Use virtual options to socialize versus gathering with friends and family. If you are an employer, make it easy for staff to be home if they are sick. Choose honesty and kindness in a time wrought with fear and pain. I'm staying home this weekend and I will be back on Monday. Our cleaning crew with spend their Sunday sterilizing the building. Our staff will put on masks and welcome patients Monday morning. Our volunteers will jump on the call line and help overwhelmed callers get testing and accurate information. We're not giving up but we need everyone else to join us. This pandemic only ends when we set aside our personal comfort to protect the lives of people we may never meet.


Breanna Lathrop, DNP, MPH, FNP-BC
Chief Operating Officer
Good Samaritan Health Center
---
This week in our staff meeting, we talked about how to prepare for the fact that COVID-19 is not leaving. We discussed how outdoor triage, mask-wearing, and telehealth would be part of daily functioning over the next year. We talked about being gracious with one another, knowing this is stressful and that people will get sick even when taking all precautions. Finally, we considered our responsibility to each other and our patients. Our decisions when we leave work are no longer separate from our life at the clinic.

Last night, my husband and I sat down with our three white children and talked about Juneteenth. We talked about white privilege, and our eight-year-old asked if we, as his parents, had ever done anything racist. We took turns giving specific examples of how our actions, inaction, and privilege have contributed to racism. We talked about what we are doing and what we need to do to create equity. I want my children to understand fully that racism is their problem.

The difficult and hard parts of life don't go away when we get overwhelmed or exhausted. On particularly draining days at the clinic, we'll look at each other and say, "I'm really done with this whole COVID deal." But we put the masks back on and continue because with over 1000 new cases in Georgia yesterday, the virus is far from over. The challenging conversations, deconstruction of previous ways of thinking and functioning, and restructuring needed to end racism are often uncomfortable and intimidating for those who have privilege and power. We need to change anyway. Saving lives means wearing a mask and staying home even though we long to go back to normal and have physical closeness with our community. Saving lives means staying the course to end racism. For me, this includes listening to black leaders and communities, examining my implicit bias and the actions that stem from it, educating myself, and changing the behavior of myself and my family in pursuit of equity.


Breanna Lathrop, DNP, MPH, FNP-BC
Chief Operating Officer
Good Samaritan Health Center
---
This week I was seeing a patient I've been working with for a couple of years now. We talked about his medication, his health, where he is living now, and his future plans. After his blood work, I bought in his bag of medications. He stopped before leaving and told me, "I just want to thank you all here for helping us homeless guys. I don't know what I would do without you." While I felt grateful that he took the time to share this encouragement, I mostly felt anger. He shouldn't have to be thanking me for primary health care. What kind of world is it where people experiencing homelessness expect to go without care?
His words seemed especially poignant because when he started his care with Good Sam, he had severe respiratory disease. I remember many visits where he literally couldn't breathe. Breathing should be the expectation, not a privilege.
In the midst of a pandemic already wrought with racial disparities, recent events demonstrate the pervasiveness of racism in our country. My work at Good Sam is largely mitigating the physical impact inequity. At the clinic this week, I also saw a patient who left the clinic on a stretcher just a month ago. "I honestly wasn't sure I would see you again," I told him. He smiles, "Guys from my neighborhood don't live to be my age so I guess God has more for me to do." He's right. As a black man from a poor neighborhood, he has exceeded the life expectancy for the census tract he was born in.
For Good Sam, this week has been a time to consider how we work toward health equity and what more we can be doing. We have had some recent positive steps forward in our COVID-19 response and increasing access to care. We hosted our Virtual Institute on responding to COVID-19, where 48 people from 7 states attended to talk about how charitable clinics respond to COVID-19. We launched a walk-up COVID-19 testing clinic in our outdoor pavilion, thanks to a partnership with CVS. Primary care visits are increasing, and our dental department is back to 5 days a week. But, there is so much work to be done. Work to do individually and work to do collectively. And while we are working to address the COVID-19 pandemic, I am reminded of a much more pervasive, devastating pandemic: racism. No matter how much we improve our COVID-19 response, saving lives depends on our collective ability to confront racism and inequity in this country.


Breanna Lathrop, DNP, MPH, FNP-BC
Chief Operating Officer
Good Samaritan Health Center
---
Adapting to the New Normal
If we're honest, what we want is a date, a line in the sand, after which everything goes back to normal. A day when we simply go back to our normal lives and plans and leave the COVID-19 pandemic behind us. Quarantine is hard, and the challenge is compounded by the unknown. This would all be easier if we knew when it would end. The truth is that we aren't going back to normal. We will slowly redefine work, community, travel, and healthcare. COVID-19 isn't in our control, but our response to it is. We can face the inevitable change with anger and resentment, or we can give grace and shape change intentionally.
I miss going to places and seeing friends. I haven't been able to see my mom. She lives alone just 20 minutes from me, but all I can do is leave groceries on her doorstep. I miss celebrating birthdays and inviting friends over for a meal. I miss attending church and singing with the worship band. As I think about the summer, I think of the plans that have been canceled. For many, quarantine has brought loneliness and financial hardship.
The virus itself fuels my longing for it just to disappear. I am used to fixing things at the clinic. We can provide vaccines and education to prevent disease, medications to manage and cure. With COVID-19, there is nothing I can do. No treatment to give or reassurance to offer. I recite the same guidelines repeatedly each day, "go to the ER if you start having difficulty breathing." I am reminded daily that the best thing I can do for my patients is to commit to social distancing and decrease the spread of COVID-19.
This week I called to check in on a patient with COVID-19. She had classic symptoms but had been doing OK. Her son answered the phone and told me she was in the hospital. He is a young adult with severe developmental delays, and she is his only caregiver. I will continue staying home except for my weekly trips to ALDI to make sure her son isn't on his own.
Another patient called me panicking this week because a close co-worker has COVID. He has a wife and three kids and was worried that he could be exposing them. His test came back negative, but he'll return to the same job where more and more people are testing positive. I'm going to continue joining church via a virtual live stream to help keep his family safe.
 For all of us who are weary, lonely, fearful, and longing for an end, remember we are each other's keepers. We may not have much in our control right now, but we can adapt. We can choose a new normal in pursuit of saving the lives of people we have never met.


Breanna Lathrop, DNP, MPH, FNP-BC
Chief Operating Officer
Good Samaritan Health Center
---
The Power of Volunteers 
I'll confess, the past week has been discouraging. We had a couple busy days in which I felt like I was sending everyone I talked to in for COVID-19 testing. There is a picture of a nail salon worker in a basic facemask and what looks like a clear poncho giving a manicure that I can't get out of my head. A colleague who has been faithfully continuing street outreach with the best precautions possible, just posted that his COVID-19 test returned positive. The week ended with a new record daily COVID-19 death tool in the U.S. As the weeks drag on, and it feels like the hopefulness and comradely that marked the early days of the response have given way to anger and fear.
In these moments, I remind myself of those who are responding in love and compassion. Such examples are not hard to find at Good Sam. Our team shows up each day with smiles and energy as they don masks and prepare to serve patients. A patient told me this week, "I can tell you are smiling even with the mask on." A group of boy scouts brought tubs of handmade facemask for patients, and a woman I have never met just emailed to see if she can send the staff lunch. Most of all, a group of twenty dedicated volunteers run our daily helpline so that patients and community members with questions or concerns about COVID-19 can immediately reach someone. This team answers questions routes people to us so we can refer them for testing, and helps people get care throughout our telehealth partner, Giving Health. They have taken calls from all over Atlanta and even one from Texas. As HelplineSOS moves into 25 other clinics across the U.S., many of the volunteers are now assisting the team that will make this happen. They remind me daily that our country is filled with people like them who are in it for the long run.
For anyone, like me, who could use a little encouragement, I invite you to read this interview with Mike and Priyasha, two of our volunteer coordinators who make HelplineSOS possible.  
Thank you,


Breanna Lathrop, DNP, MPH, FNP-BC
Chief Operating Officer
Good Samaritan Health Center
---
INTERVIEW
What was it like getting started? 
Mike: In the first week, we created a detailed script, onboarding material for volunteers, a clear workflow for how the helpline would know this is a triage system, and connect them to the appropriate providers and information. Then it was all about making sure we could support volunteers. We had almost 20 volunteers in the first few days -- they were so enthusiastic they were asking us for more calls!  
Priyasha: We had to develop new processes for everything since COVID-19 began, and with the helpline, at first, there were many new questions -- how do we connect a person from the phone to a provider? The main piece of this has been categorizing our callers -- complex, simple, symptomatic, information seeker, test seeker, and then as Department of Public Health guidelines have been changing every other day, keeping these categories updated. We pulled off setup in a week. We've been doing this for two weeks, just with Good Samaritan staff.  
How does volunteering work?
Mike: When the call comes in, the volunteer does the majority of the work -- gets to know the patient's situation as well as they can, then helps provide the support that person needs, both for callers that are Good Samaritan patients and other patients. Regardless of their status, all callers get connected to a provider if they need one. For those who are not Good Samaritan patients and are uninsured, they get registered with Giving Health, a nonprofit telemedicine provider, and they're able to get an appointment at no cost, for COVID-19 related issues or other critical health issues.
What are success stories like?
Priyasha: One example: a volunteer took a call from someone who wasn't a patient at Good Samaritan, who then called back later with other family members who needed this service to access testing. This caller was routed to Giving Health for an appointment. It's great when we can reach as many people as possible. The caller was so impressed with the service that they are referring other people to call-in. 
What's amazed me is how many people have called us back: we've had people call in, and they're having mild symptoms, not ready to talk, but then, because of the connection they have with that volunteer, they will call back later. I am confident in the system we've set up because it provides callers with support and connection. They know that if they need it, in an hour they're connected to a provider, and it's why they call back. It's powerful to talk to someone and hear the relief in someone's voice when we address their concerns. It could be as simple as educating the caller about COVID-19 and informing them of the common symptoms, but even that small piece of information can ease anxiety.
Mike: Here are a few sample caller questions that we were able to help:
"My mom tested positive for COVID-19. My siblings and I have close contact with her but do not have any symptoms. Should we be tested?

"I have a history of high blood pressure and have been exposed to COVID-19 at an assisted living facility where I work. Now I have a dry cough, occasional fevers and muscle aches."

"My sister and nephew were diagnosed 1-2 days ago with COVID-19. My mother is around them everyday and now she feels sick as if with a stomach virus. She has a history of diabetes but does not have health insurance."

"I've been taking care of my daughter who was hospitalized and tested positive for COVID-19. I feel like I'm getting short of breath when I climb stairs." 
How does HelplineSOS help health care in the community?
Priyasha: That system of taking care of the uninsured, our community of providers, just giving this already set up community the support they need. 
We're lessening the burdens on E.R.s, hospitals -- because they can work with people who are calling, some of which can be helped without going to the hospital or might need assistance but are reluctant to go into a facility due to fear of COVID-19.
Mike: In my perspective, I'm amazed by how much everyone wants to help out, support. We didn't have too many people, willing to help in whatever way I can, that attitude has been a big part of all of our work.
Priyasha: It feels good to help people right now and make sure we are getting them the testing and support that they need, including the emotional and mental health support.
What are you most proud of from the volunteer experience?
Priyasha: I was excited to be a part of this because I love working with patients, and it felt like a great way to help the community in a strange time. The speed through which so many people in the community are rising to the challenge, setting things up asap, guidelines, clinics, all of it. Our team is able to adapt and build and grow from every call, even as the situation worsens in Georgia.
Mike: The connection between a caller and a volunteer and a coordinator and a telehealth provider -- when it works together, it's extraordinary. It all starts with a call on the helpline.
Words of wisdom from the volunteers 
Priyasha: This situation is dynamic, evolving -- for Good Samaritan, we are getting new rules from Georgia's Public Health Department, and adjusting every day. Volunteers need to understand the script deeply so they have the confidence they need to know what to say, to really provide the support and care that callers need in this triage model. With the script, they'll know immediately what this person needs to know.  
For our volunteers, we work to be thoughtful about the power we have -- letting the empathy show in our voice, creating the level of comfort someone needs to be able to call back. 
Mike: Don't underestimate the power of information.
---
Building for the Long Run
For the last month, I have been, like most of you, in crisis mode. It has felt like I can't solve problems as fast as they are appearing. We finish implementing a new policy to find the guidelines have changed again. This week, I find myself entering a new stage. I already know Good Sam can mobilize, change, and adapt. Our staff proved this weeks ago. But now I am asking a new question: what does it look like to sustain our work in a new reality? This question is an important one because I know two things for sure: COVID-19 is not going to disappear, and neither is Good Sam.
Early on in the process, as we were launching the HelplineSOS, I was concerned about every detail being in place when we began. My colleague assured me there would be time to adjust and get it right. "I know you provider types," he said. "You want to fix things, but this is just the start of a marathon. You have to pace yourself." He was right. Weeks later, our crisis response is well-practiced, and vulnerabilities have been addressed, but there are so many miles to go. 
I have found my prayers shifting from "don't let me get sick" to "let me recover quickly." "Let me have enough symptoms to know to stay home and not spread it to every patient I see for a week." "Let me make enough antibodies to be a donor." Our supply of PPE should carry us through May, but will the supply chain be re-established by the time our supplies get low? Right now, patients forgo telehealth and postpone appointments because they "can wait until summer." But what if the risks aren't substantially different this summer, and how will we accommodate three months of delayed medical needs in a single month? I can choose to be consumed by the need for answers I don't have, or I can pace myself. Pacing myself means focusing on the big picture and allowing that to guide my every day decisions. I have been asking myself these questions:
1. What needs to happen for us to come out of this whole? Whether at Good Sam or at home, plans will be delayed, programs stalled, and outcomes won't be those we planned in January. That is OK. I want to come out of this with the same motivated, passionate team who started this journey together. I want to come out as the same holistic, patient-centered clinic earning community trust through action that we have always been. There will be ups and downs and wins and losses in the months to come, but I want us to look back and know that we never compromised our mission or the people who make it possible to live out that mission.
2. What makes a meaningful difference in the lives of those I can impact? As much as I wish I could, I can't fix everything. I need to focus my energy on the way I am best equipped and positioned to mitigate the damage COVID brings. I am trusting that others are doing this in their own spheres and that doing my best in my space support them in theirs.
3. How am I demonstrating the response I want to see everywhere? The news is a daily reminder of our brokenness, of persistent health disparities, of how fear and selfishness drive decision-making. I can choose to speak the truth and pay attention. I can seek the wisdom and perspectives of others to make informed and proactive decisions. I can choose to view the responses of others and my own shortcomings through a lens of grace. I can extend gratitude and compassion because we all need that right now.
Calls from the Department of Public Health with positive results are commonplace now, and the number of patients I know who have been diagnosed with COVID is growing. We won't get to wake up on May 1st and go back to normal, but we don't have to be defeated either.


Breanna Lathrop, DNP, MPH, FNP-BC
Chief Operating Officer
Good Samaritan Health Center
The week has been filled with beautiful spring days: clear blue skies and budding trees. It's quiet with less traffic and the drive to work is even faster than usual. The streets are empty. No one speaks during my once a week trip to the grocery store. Everything is oddly quiet while the pandemic rages on.
Good Sam has felt a little this way as well. We have moved nearly half of our patients to telehealth. Instead of the sounds of patients walking and greeting staff in the hall, providers meet patients over a computer screen. Sick patients are masked outside and taken to our triage area which has a separate entrance. Our voices are muffled behind our respective masks. Our Friday clinic designated for individuals experiencing homelessness has changed from a family-like atmosphere of devotion, breakfast, and multiple appointments, to an outdoor waiting room with chairs 6 feet apart, sack lunches, efficient visits, and psychiatry consults by phone. Today, one of my patients for the past 5 years told me, "You might as well give me 2 months of medication. If I can't get my hugs here anymore I might as well wait a little longer before coming back." We are working hard, but it is different. It is quiet in an unsettling kind of way.
While so much is different, our mission is not. We are staying open and serving our community in a way that demonstrates God's love for everyone. We are refilling medications, providing phone and telehealth consults, accepting walk-ins, bringing medications out to people's cars, and fielding phone calls all day long. Our message is clear: it's going to be different for a while but we are still here. You can still depend on us.
This week hundreds of flyers went out to our community with our clinic number. We assembled a volunteer call center ready to answer questions and connect people to care. The HelplineSOS system we have piloted is set to be used by hundreds of clinics across the U.S. We joined the Westside Future Fund for their broadcast again this week, delivered cell phones to a local shelter to facilitate telehealth for residents, and helped a dozen people get testing for COVID-19 through the Department of Public Health. We are doing what we do best, providing the care our community needs at this time.
I would rather be hugging my patients. We are all grieving the loss of life as we knew it. But like all of you, we are doing what is best at this moment. Stay strong, friends.


Breanna Lathrop, DNP, MPH, FNP-BC
Chief Operating Officer
Good Samaritan Health Center
Greetings!
So many of you have reached out to ask how we are doing and what we need. Thank you! I am going to respond to each of you but wanted to provide a general update, as it will take me a little while to get caught up on emails.
So much has changed in a short time. We have reconfigured clinic flow to operationalize outdoor triage and transformed our previous staff entrance into an isolated assessment space for anyone presenting with fever or respiratory symptoms. We spent an afternoon in all-staff training around new policies and procedures related to COVID-19. The majority of our administrative staff have moved to work remotely. Nutrition consultation and counseling are conducted remotely, and all health education programming and classes are temporarily suspended. Dental is providing emergency services only. We are now using a telehealth platform for virtual visits and are moving as many office visits to telehealth as possible. We continue to operate our clinic dedicated to people experiencing homelessness with new procedures and the use of our outdoor space as a waiting area. We have a designated provider covering sick visits each day. We're wearing scrubs and have detailed routines of showers and separate hampers at home, so we limit the risk to our families.
In partnership with the Coronavirus Support Network, we have created a helpline for our patients and our community. This system allows us to rank incoming calls by risk factors and utilizes volunteers to provide information and route appropriate requests to our health care providers. We are the first pilot clinic for this program, which will be used by hundreds of clinics across the nation over the next two weeks. We hosted the Westside Future Fund's community broadcast on Friday to offer facts and resources to our community. So we have been busy, and I have never been more proud of our team.
While we have mobilized quickly, the last week has also been a reminder to me of how the inequities in our country further complicate this crisis. Many of our patients do not have access to medications, if not for our dispensary. While telehealth is a solution for some of our patients, others do not have smartphones or reliable access to any phone. Testing for COVID-19 in Georgia remains limited. We are not testing at Good Sam so if we want to test a patient we have to fill out a request on the Department of Public Health's website. We select one of the driveby locations and then inform the patient that we will know after 24 hours if they were approved for testing. We had a patient Friday who is living in a shelter but has no phone to be notified if he is approved for testing and no transportation to get to a testing center. I am reminded that our response in this crisis is critical, but our work, mission, and advocacy must continue both during and after COVID-19.
Many of you have asked how you can help. Here are a few specific ways:
1. We need volunteers to sign up for shifts for the hotline. The volunteers for the call center work remotely from scripts and help us give information and route calls to the appropriate people. Volunteers do not provide medical advice, so you do not need to be a provider. Our longtime volunteer and PA, Mike Tremmel, is heading up our volunteer team. You can sign up here or email me, and I will connect you with Mike.
2. At this time, our staff medical providers are addressing all calls from symptomatic people needing medical advice. At some point, it is likely we may not be able to keep up. If you are a provider who would be interested in helping advise people by phone to prevent unnecessary clinic and ER visits related to COVID-19, let me know, and I will start working on how best to accomplish this as needed.
3. Donate or encourage others to donate. As most of our patients are uninsured, a move toward triage and telehealth will result in a dramatic decline in patient revenue. We are committed to retaining as many employees for as long as possible, but this will require new revenue sources.
4. Pray. We would love prayers for wisdom in what feels like a million decisions a minute and protection for our staff and their families.
5. Encourage your sphere of influence to stay home. As we post updates on our website and Facebook, please share. I keep telling my friends and family that what I am doing is damage control. Their decisions are the only hope of changing the direction of the pandemic in the US.
To keep all of our volunteers and partners informed and connected to us during this time, I am working with John Allison to provide weekly updates here the form of a short blog or video. We look forward to having you all back at the clinic, but for now, be safe.
With Thanks,



Breanna Lathrop, DNP, MPH, FNP-BC
Chief Operating Officer
Good Samaritan Health Center