Just over two decades ago, Dr. Bill Warren founded the Good Samaritan Health Center in a spare room of an Atlanta church. Dr. Warren radically followed God's call to serve the city by providing affordable healthcare to those in need. In 1999, the first official Good Samaritan Health Center building opened its doors with a small staff of eight people and just a few volunteers. In 2009, after ten years of growth and service in downtown Atlanta, the Good Samaritan Health Center relocated to its current location at 1015 Donald Lee Hollowell Parkway. Here, a full-time staff of 40 and 400 volunteers work together to provide high quality medical, dental, mental health, specialty, and health education services to individuals and families in Atlanta that could not otherwise afford these services. This location houses a one acre farm with a view of the Atlanta skyline. The Good Sam Urban Farm is run by a talented farm team, who grow and harvest a variety of vegetables and herbs, then sell these fresh products at a market located in the building.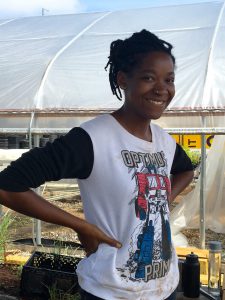 The Farm Manager here at Good Sam is Bethaney Herrington, Emory University graduate from Monticello, GA. She graduated from Emory with a degree in Education and Community Building. Bethaney is a hardworking, enthusiastic leader who loves tackling exciting, innovative projects to make the farm run as efficiently as possible. She has worked with many different farms throughout the Atlanta area and we are very proud to have her with us!
---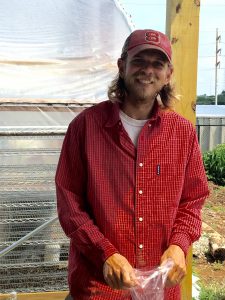 Our Assistant Farm Manager is Cody Burnett, who comes to us from Roanoke Rapids, North Carolina. He attended North Carolina State University in Raleigh, NC. He received his undergraduate degree in Fisheries and Wildlife Sciences and his masters degree is in Natural Resource Management. Cody comes to Good Sam with 10 years of farm experience, which started with him growing Christmas Trees in his college town. He currently lives Clarkston with his wife Alison and their pet worms.
---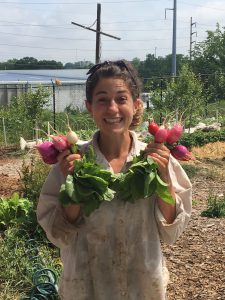 The Farmhand this summer at Good Sam is Sara Fleetwood, from Moultrie, GA. She attended Georgia College & State University in Milledgeville, GA and received her degree in Fine Art with a focus on ceramics and painting. She grew up in a rural South Georgia town surrounded by farming and gardening, so her love for getting her hands in the dirt is rooted in her childhood. Her favorite market item is kale because it is excellent raw or cooked, and it's very nutritious!
---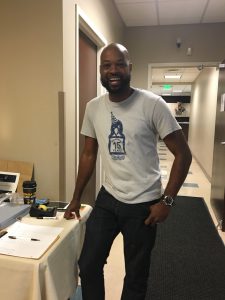 Our Good Sam Market Ambassador is Anthony Wilkes, from Atlanta, GA. Anthony received his undergraduate degree in Operational Management from Georgia Southern University in Statesboro, GA and his Master's degree is in Healthcare Administration from AIU. His favorite market item is garlic because he loves using it in all his cooking!
---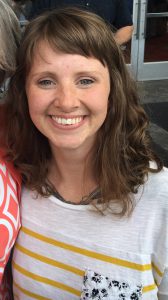 The Communications Intern at Good Sam this summer is Karli Blalock, from McDonough, GA. Karli is currently attending Arizona State University to receive her B.A. in English with a focus in creative writing. She doesn't have any previous farm experience, but has been enjoying the hands-on approach to learning about farming. Her favorite market item is basil because it's delicious by itself or as added flavor when cooking!
---
We are all so excited about working hard this summer to bring you healthy, fresh, delicious vegetables! Stop by the market or wander down to the farm to meet and chat with us! If you have any questions about starting or maintaining your garden at home, Bethaney, Cody, and Sara are wonderful resources!